Cappadocia: Utterly Magical, Authentically Turkey
It's 5:30 a.m. and I'm climbing out of a van in the middle of a large field in central Turkey. It's still dark, but I can see the silhouettes of half-filled hot air balloons scattered about on their sides. We watch a man inject the closest one with air, and then warm that air with huge bursts of fire. The sky gets lighter, and the balloons inflate slowly, like giant, benevolent monsters coming out of a deep sleep.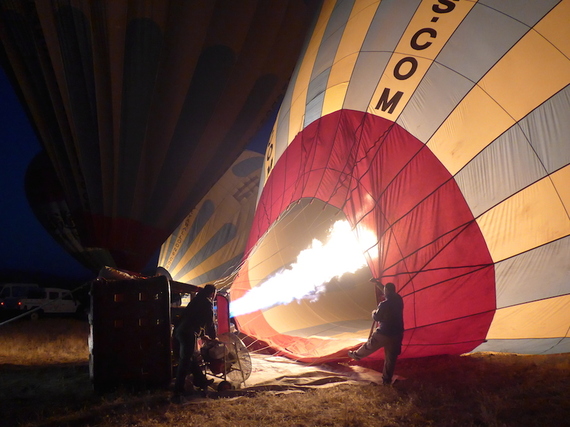 Our pilot introduces himself. His name is Baris, but, he says, we can call him Boris. I wonder what it must be like to list "hot air balloon pilot" as your profession. You might as well say "unicorn rider" or "yellow brick road paver."
Taking a hot air balloon ride has been on my bucket list for longer than I care to admit, and I visit Turkey every year these days, so doing it in Cappadocia makes sense. Beyond that, it's still too early and too chilly to have any cohesive thoughts around what's about to happen.
Sixteen of us, plus Boris, climb into the balloon basket. There are about 50 other balloons around us. Boris pulls a lever and more fire spews upwards, and suddenly we are a foot off the ground, then 10, then a hundred. Then we are one of 50 enormous bubbles floating in the sky, which is getting lighter, and the fairy chimneys are all around us. And I am gobsmacked, speechless, awestruck beyond all English vocabulary.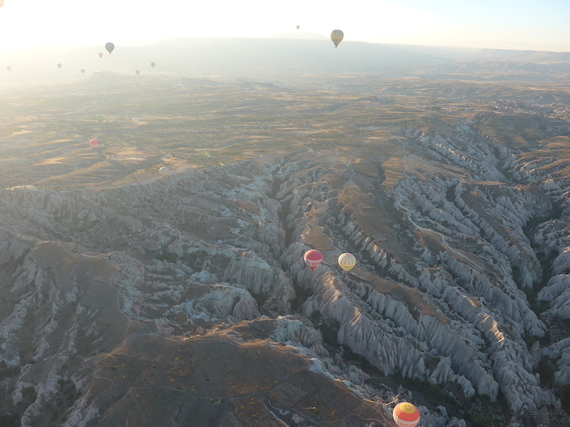 Our first hover is Love Valley, so named because the peaks are phallic.
"But this is a Muslim country," Boris points out. "So they are circumcised."